Roof Repairs
Roof Repairs
Rawdon Roofing Construction Services  undertake all aspects of roofing repairs including; renovation, slating, tiling, felt repair and replacement, guttering, lead work, pointing and moss removal, which not only makes your property more attractive, but also it prolongs the lifespan of your roof.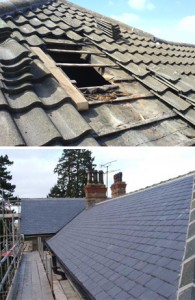 Common problems
Debris on the ground from broken slates, tiles or defective mortar could indicate that there may be a problem.
If you have missing tiles or slates, damage will occur to roof felt, timbers or plaster ceilings.
Moss, leaves and other debris can block gutters. Overflow of guttering can cause damp to penetrate when running down the walls or to back flow into the roof area.
Moss retains moisture which may damage the roof covering, particularly if left on the roof in frosty weather, careful removal is advisable and treatments are available to eliminate this problem with a roof coating solution.
Hips, ridges and flashings can become detached in windy weather if pointing is not maintained. Look in gutters or gullies for signs of mortar droppings.
Where a fuel fire is used check for smoke exiting through brickwork or at base of pots. Pointing and re-flaunching may be required.
Many roof coverings such as lead or thatch require specialist repair. Do not use unskilled labour or quick-fix materials as these could cause greater long-term damage and greater expense.