Fascias, Soffits & Gutters
Fascias, Soffits & Gutters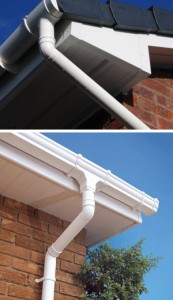 Why spend your time repairing, replacing or re-painting leaky old guttering when our uPVC products are all you need for a maintenance free and cost effective alternative. Rawdon Roofing construction services Glasgow based installation team can have all your fascia, soffits and guttering made to measure and replaced in no time at all.
What is a fascia?
This is the horizontal piece between the top of an exterior wall and the projecting eaves. It normally refers to the fascia board which caps the end of the rafters outside a building and often holds the rain gutter.
What is a soffit?
This is the finished surface below the fascia and rafters, and can include the underneath part of an arch or architrave or underneath a flight of stairs. It can also include the exposed underside of any section of a roof eave.
How do I know when my fascia and soffits need replacing?
There are several warning signs, including leaking guttering and the wood starting to rot. Damp can also start appearing in the corner of adjoining bedrooms. You may also be able to see soffits starting to sag.